Darlene Gait wishes to thank everyone who has helped to make this
website such a success in the past. We have moved to a new website at
http://www.onemoon.ca. This site is no longer maintained or updated.
We hope to see you there soon.
DARLENE GAIT - NATURE GALLERY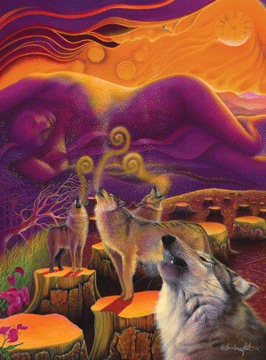 When Mother Cries
I heard her faintly,
quietly sobbing
when I stood very still.
At that moment I noticed
things were not right.
The season's are confused
and the animals are hungry
and yet I sleep at night.
I feel knots tightening my middle
and pretend I am dreaming
so my comforts in life won't be disrupted.
Yet, somehow they are,
while I sip my morning coffee,
it tastes flavourless.
My body hungers less for food
and more for spiritual sustenance.
I go where it's noisy
to escape the guilt of knowing
her sorrow,
then back to nature to see
if she's still breathing.
Original Image Size: 22x30
Limited edition giclée prints available; various sizes, on paper and canvas, please click the "BUY NOW" button to check availability.